Pablo Llana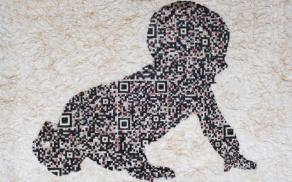 Available Works

















Biography
*1980, Tijuana, Mexiko, lives and works in Tijuana Baja California Mexico
Pablo Llana creates two-and three-dimensional works on the topics of capitalism - consumption and obesity - identity, for which he uses remains of edible consumer products, food packaging and food labels with high sugar, high fat and high carbohydrate content as a color palette. Families from San Diego and Los Angeles, California as well as from Guadalajara, Mexicali and Tijuana support the work together with a network through the provision of packaging. This innovative technique gives things form and new meaning, which are considered by many people only to be waste product.
Pablo Llana already gained a lot of attention for his work in solo shows and group exhibitions.
Solo Shows
2013 "YO CODIGO COMUNIDAD", Centro Cultural Tijuana CECUT, Tijuana B.C., México.
2013 "MOUTHFUL", Instituto de Artes Graficas de Oaxaca IAGO, Oaxaca, México
2011 "Oaxaca desde Acá", 9th proposition of TC3 Contemporary cubism textile, Museo Textil de Oaxaca, México
2002 "MakiyateMakiyaje" (MakeupMake-up), Instituto de Cultura de Baja California (ICBC), Tijuana B.C. México
2001 "Entre el riesgo y el castigo" "Between the risk and the punishment", Galería de la Ciudad. Tijuana B.C. México
Group Shows
2014 5 Artists from the Mexican-US-American border, Art Virus, Frankfurt am Main, Deutschland
2013/14 "Arropame desde los pies", Tapetes tradicionales y actuales Ausstellung organisiert durch das Museo Textil de Oaxaca in Zusammenarbeit mit Exconvento de San Pablo, Oaxaca Mexico
2013 Trono de los de a pie, La Calera,Oaxaca México
2013 IRRIGACION, Current art fibers and textiles from Oaxaca, Tijuana and Guadalajara Museum of the city– French aliance in Guadalajara México
2013 ESPORA, Contemporary textile art from Oaxaca and Tijuana, Tijuana city gallery
2013 OBRA NEGRA, An aproximation of the cultural vision of the construction in Tijuana El cubo, CECUT
2013 Entijuanarte rEVOLUCIONa, Public intervention Revolucion avenue Tijuana B.C. Mexico.
2005 Auditorium of the arts and cultures, Madrid, Spain
2001 "Pintura Fresca" ( Fresh Painting ) Luckman Fine Arts Gallery, California State University, Los Angeles CA
2000/2001 7th & 8th Cultural Festival, Tecate Baja California, México. "Tapetes 01"Tijuana's Cultural Center CECUT, México.
2001/'02/'03 Sony Art Walk, Mexican consulate-San Diego CA.
2000 "Todos somos otro", City galllery. Tijuana B.C. México.
2000 "Tijuana en tarjetas postales", City gallery. Tijuana B.C. México.
2000 "Configuraciones", Young cause gallery. Tijuana B.C. México.
2000 "Del tiempo y unas gentes", Nina Moreno gallery. Tijuana B.C. México.
1999 "Profunda interacción", Young juvenile gallery. Tijuana B.C., Culture House of Playas de Tijuana. México.
1998 "Diferencias Complementarias", City gallery. Tijuana B.C. México.
1997 "Sueños", Cultural House of Tijuana B.C. México.
Awards
2013 XIV Northeast Biennial Visual Arts ,Selection 2013
2013 Selection for the XIX. Biennale, Baja California
2013 Selection for the Ninth Biennial Puebla, Angeles 2013 zum Thema: THE POWER TODAY, What denounces? What announces?
2012 Prize at the 5. National Biennial MIRADAS
2011 Prize at the 13. Northeast Biennial Visual Arts
2011 Selection for XVIII. Biennale für bildende Künste, Baja California
2011 Selection for VI. Biennale AIRE zeitgenössische Textilkunst, World Textil Art
2000 Selected for the 6th University Biennale founded by the University UABC, Tijuana B.C. México,
1999 Prize at the XII. Biennial Plastic Arts of Baja California México. Öffentliche Ausstellungen und Diskussionen
2012 Pechakucha Night Tijuana Vol. 2, December 2012, Tijuana B.C. México.
2012 Contemporary textil Art TC3, Dialog mit den Teilnehmern und Künstlern der zeitgenössischen textil Kubismus des Museums von Oaxaca.El Cubo, Tijuana's Cultural Center CECUT. Tijuana B.C. México, März 2012
2011 TC3 9. Contemporary Textile Exhibition, Textil Museum Oaxaca, Artists discussion, Textile Museum Oaxaca, Oaxaca México, July 2011
Publikationen
2013 AAD Arte al día MEXICO Magazine, Review of YO CODIGO COMUNIDAD (My community code) von Carlos-Blas Galindo, Mai-Juni 2013
2013 AAD Arte al día MEXICO Editorial 6.0 Anniversary Edition Magazine. Pablo Llana: MOUTHFUL TALK BETWEEN THE BORDERS AND THE COMMON SENSES, Seite. 24-25, März-April 2013
2013 noticiasnet.mx News, Bringing the cultural sickness of plastic arts, Pablo Llana, Februar 2013
2013 News Oaxaca : MOUTHFUL, Februar 2013
2013 CUARTOSCURO Magazine: Pablo Llana MOUTHFUL at IAGO Oaxaca Mex.
2012 Press note Oaxaca - Section C by Carina Pérez García
2012 Book cover "CORNUCOPIA" by Octavio Hernández Díaz, "Chewed Landscape" 2012, CECUT CONACULTA
2010 Tijuaneo Magazine: The satirical art of Pablo Llana February 2010
2001 Los Angeles Times: From nine Tijuana Artists: Perspectives as fresh as paint, Nov. 2001
website
http://www.pablollana.com/